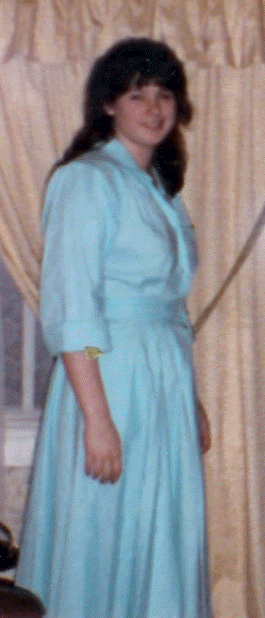 Can you remember feeling amazing in a particular outfit from years gone by? I do. One outfit was this mint green shirt dress from circa 1987.
I was always a heavy kid, but at this time I had lost a ton of weight and kept it off for about 3 years. (That record would never be broken going forward.) When I wore this dress, I got so many compliments, mullet not withstanding. (Look at me - business in the front, party in the back hehe).
I have looked at patterns online and Googled "shirt dress" trying to find a pattern in this same style. Not that I'm going to attempt to sew, mind you. I'd rather give myself a labotomy. But I'd pay someone to make it as a reward for when I reach my goal. I can't tell you what SIZE I will be when I reach my goal, or even what the final weight will be. I'll know it when I am there, I think.
But I'd love to have this style dress. It really accented the right places and made being 5' 10" seem okay. (
I have always had issues with being so tall, I never liked it.
) And I loved the color, too.
I think I may print this picture out and tape it to the refrigerator as a positive affirmation of what I am working towards. I will never be 21 again, but I can definitely work towards being able to rock a shirt dress. The sad thing in looking at this picture is that I really thought I was still huge when I looked in the mirror back then. I NEVER felt even close to "normal." Those distortions and filters are deeply entrenched, but this time, I'm getting rid of them for good.
♥♥♥